Gown and country
By Ryan Songco for Baltimore Magazine
Victor Rossi has been a busy man. He has fitted numerous celebrities and pageant contestants in his elaborately hand-beaded gowns. He has shown in London and New York....
Nom de couture aside, each of the designer's hand-beaded gowns.... is a made-to-order custom creation. His work is available in New York, and is now getting into major English retailers though the designer jokes that "Iím too young for Harrods."
Not that itís about getting rich. "I donít do this for the money. I want people to wear my clothes and feel happy." Last year, he produced a cancer benefit fashion show at Londonís Godolphin and Latymer School. Heís pushing for Maryland schools to increase their resources to the arts. And heís developed a mentoring program for teens interested in a fashion career....





Designs on success
The designer dreams his dreams and eyes the stars while working with colourful slinky fabrics, beads and sequins. He plays out his fantasies of a perfect evening dress on his designing board....
The secret of his success lies in the fabric. "The fabric is light and it clings to the thin or the full-figured woman. It's not heavy, it's flattering. It flows as they move," explains the designer, whose "secret fascination" is long dresses. Intricate beaded work is the signature of his collection.
"When I design something for somebody and I see their face light up, it makes all the hard work worthwhile. I really appreciate the thanks I get from my clients," he says.


Pittsburgh Tribune Review
"The designer is self-taught.... His website, www.victorrossi.com, offers company information as well as fashion forecasts and tips."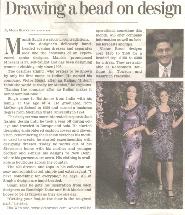 The Standard Times (Massachusetts)
"Young designer hand beads sexy creations."


The Baltimore Sun
by Maria Blackburn
"The designer's delicately hand beaded evening dresses and separates look like the creations of an experienced, senior designer..... The dresses and tops in his collection are sexy and sophisticated, simple and extravagant."